Well what can I say about Summer? It's hotter than Spring. There are more kids at the mall. There is no hockey. Yep, that about covers it. As you know, the Caps were knocked out during the first round of the playoffs by Pittsburgh. again. argh.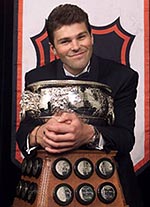 BUT on 7/11/01:
"I'm very excited to let you know about one of the biggest trades in Washington Capitals history. Just moments ago George McPhee and the owners agreed to a trade with Pittsburgh that brings Jaromir Jagr to Washington." - Dick Patrick, President, Washington Capitals.
(Okay, Jagr- Bring the Cup with you to DC!!!)
I have also learned that Jiggly Puff-ball, my cute little kitty cat, sheds. a-lot. This must just be a Spring/Summer thing because the first few months I had her, nothing like this... I am not complaining. Actually I am complaining. But I love her as much if not more than ever... new pictures of her coming soon.
I have pictures from Cookie K's bacholerette party, but I am not sure if it's legal to post such smut. Well, I'll post the clean ones as soon as I scan... we had fun. Her wedding was great too and I got to finally see Norfolk (pronounce it how you will) which was cool. The rest of the summer should be wedding free until Dawn's (Texas in September!)
For some reason, my guest book got messed up (curses, Yahoo!). So please go there and sign it. Now! Do it!